CARDINAL STEFAN WYSZYNSKI UNIVERSITY IN WARSAW INSTITUTE OF SOCIOLOGY
and TEAM FOR BEST PRACTICE

invitation for 2nd international conference on

ASPECTS OF SOCIAL INEQUALITIES – MARGINALIZATION,

which will be held to Nowember 19th, 2015. in  Auditorium Maximum, UKSW  l. Wóycickiego 1/3 street in Warsaw.
The aim of the conference is to take the issues of marginalization in a broad perspective, both in the social, political and economic or geographical aspects. We invite you to interdisciplinary discussions researchers from various fields, in particular: sociologists, anthropologists, theologians, missionaries, psychologists or economists. We look forward to exchanging experiences between practices and experts from different countries, who undertake research and looking for ways to solving problems in the marginalization fields.
Conference sessions:
Marginalization of countries and regions – analysis of the situation of developing countries, the possibility of their sustainable development, and depending occurring in the political, economic and socio-cultural aspects;

Marginalization of social categories – the situation of the homeless, people living in poverty, older and disabled people and the possibility of their activation;

Urban areas marginalization – housing estate, old urban and closed neighborhood;

Marginalization in labor market – occurrence precarity like a product uncertain job, grey market and unemployment, education and professional activation people at risk of marginalization or socially excluded;

Marginalization in system of educations – marginalisation at the level primary school and at the level of higher education, institutional marginalization.
GENERAL INFORMATION
Abstracts in English should be submitted via our registration letter by Semtember 15th 2015. (attachement nr 1) by e-mail: PhD. K. Lendzion k.lendzion@uksw.edu.pl
We plan to publish selected articles, after review :
– in "Academic Journal of Sociology"
– post-conference-reviewed monograph.
The condition of publication is send the article to November 30th, 2015.
The cost of participation in the conference is 250 PLN or 60 EURO.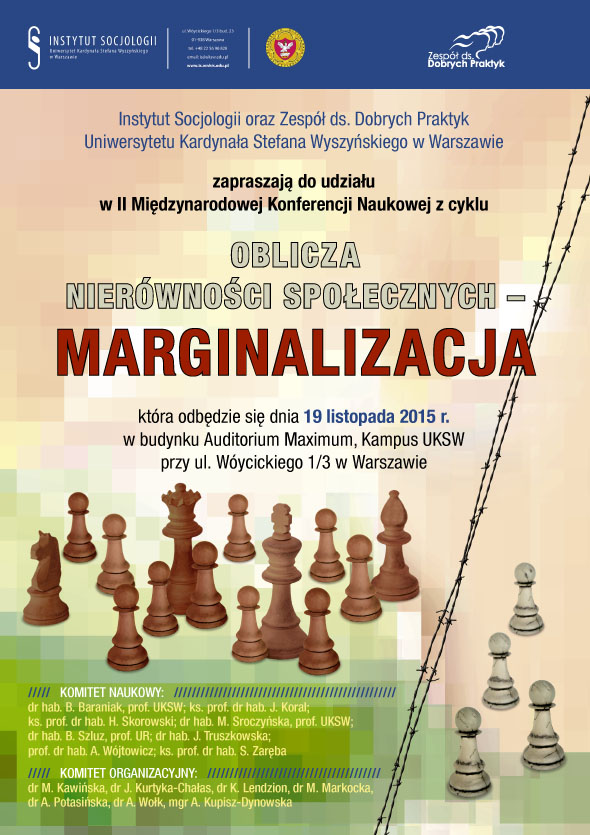 Download
Invitation